Click a letter to view the Flash movie for each letter.
Special thanks to:Caity Dawson, Allison Dawson, and Brian Dawson;
Christine Dawson; Alice Hoye; Betsy Williams; and
Emily Bushey and Annie Bushey, all for knowing their letters so well.
Special thanks also to Flashkit.com for additional freeware sound effects and music on L, M and O.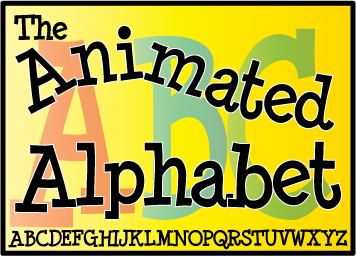 The FREE Adobe Flash player is here, at this link.
You can have a lot more fun on the web if you download it, not just on this site, but many others. It only takes a minute or two.
:::::::::::
Don't have Flash? Don't want it?
No problem. The Alphabet is for EVERYBODY.
Here's the plain version for you all to enjoy, whether you need the pages to be accessible, or you just want a quicker upload time.
::::::::::::::