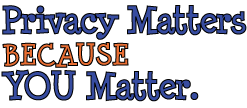 We take privacy VERY seriously here at InklessTales.com.
So seriously, in fact, that we made a kind of

funny video 

  – so that anybody – kid, grownup, or anybody at all, interested in the subject – could understand exactly WHY privacy is SO important.
ONLINE PRIVACY is so important that it's the LAW: the COPPA law. COPPA stands for Children's Online Privacy Protection Act – and laws like these make SURE that web sites like InklessTales.com keep kids safe online.
Here's a link to the full legal text of OUR privacy policy, which is written so that anyone can actually read it and understand it, believe it or not.
And here is a link to the InklessTales.com Internet Safety Video, which we're all really proud of – it's a

light-hearted, but pretty

smart look at how to stay safe online.
WARNING:——————–

 Clicking this YouTube.com icon will take you to a site OUTSIDE of InklessTales.com – which means we don't run it, own it, or control the content, even though it's OUR YouTube.com channel.
For example, YouTube.com can run DIFFERENT videos besides ours NEXT to the videos we created for YOU.)
Unless the videos are created by InklessTales.com, we can't make absolutely sure the content is safe. It isn't likely that videos related to ours would be dangerous – but we need to take a moment and point this out to you, just to be sure.