Click on
this square
logo above
to go back
to the
home page anytime!




All material ©
Elizabeth Williams
Bushey, except
where indicated.
Sign up for the FREE e-newsletter!

Grownups:
Read articles, recipes, and more, for parents, teachers and librarians.
Listen to fun music and even download some FREE MP3s!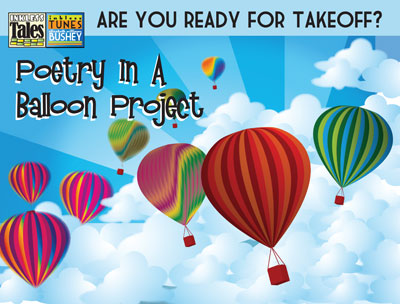 The sheet is also printed with the following information:
This poem was written by: (first name ONLY):_____
Age: _____
School or organization: ______

If found, please send your thoughts to:

The Poetry In A Balloon Project
balloons@inklesstales.com
Or mail to:
Inkless Tales
P.O. Box 87
New Hampton, NY 10958
The reason it has the Inkless Tales address and information is to protect YOUR privacy, since you are KIDS. But don't worry: EVERY SINGLE RESPONSE I RECEIVE I will post right here, in this section. So keep looking!

And keep writing!



What IS the
Poetry In A Balloon Project?
Here's how it works:
Your group gathers and writes short poems. Haiku and couplets work well. So do short acrostic poems. If you need help to write them, you can visit http://www.inklesstales.com/teaching_poetry. There are some good ideas there – and some good "How-Tos" about writing poetry.
Some more "Inspiration for Creation" can be found at http://www.inklesstales.com/sparkers.
Next: Download the PDF (that means "Adobe Portable Document Format") and print it out. This will be a page with four sections on it – for four poems. You can fold this page into four sections, and then cut or tear it into fourths.
That will make it small enough to roll up tightly, so you can sneak it into the mouth of your balloon.
You will need the FREE Adobe PDF Reader for some of these files. If you don't have it already,
Download it FREE at Adobe.com.