Click this logo to return home anytime.
---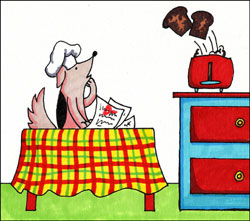 Illustration by Elizabeth Bushey
Prismacolor markers on bristol board
Meet My Dog
Meet my dog
He's not too smart
He drives me around
In a shopping cart.
He does my homework
But gets it wrong
Forgets the words
To my favorite song
He burns the toast
At breakfast time
He writes me poems
But they don't rhyme
He loves me, though
He gets that right
We sleep together
Every night
That big dumb dog
I love him, see
We all screw up
Yup – even me.
© 2006 Elizabeth Bushey