Click this logo to return home anytime.
---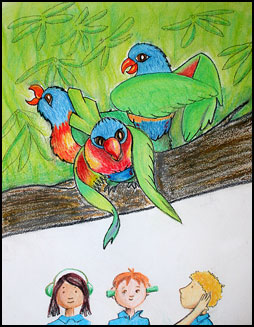 Illustration by Elizabeth Bushey
pastel on paper
The rainbow lorikeet is native to Australia. A beautifully-colored bird, about 12 inches long, it nevertheless makes a loud squawk that is not quite as beautiful to hear.
This poem was inspired by my online friendship with the delightful Grade 1 students at St. John Vianney's School in Queensland, Australia, who are lucky enough to have rainbow lorikeets as neighbors outside their window.
The tireless Flynn gets all the credit for the clever title of this poem.
Our Rowdy
R

a

i

n

b

o

w

Birds

Down Under, in Australia,
The lorikeets are loud.
They're brilliant birds
Quite colourful --
But what a squawking sound!

The children love them,
Just the same,
(After all --
These birds aren't tame.)

Lovely to look at,
Harder to hear,
So use your eyes
And cover your ears
When you visit Down Under
And wonder --

Is that a lorikeet you hear?

© 2007 Elizabeth Bushey