Click on this square logo above to go back to the home page anytime!




Be sure you have your grownup WITH you when you fill this out!
Note to grownups: I can accept almost any file, in MS Word, OpenOffice, Adobe Illustrator, JPG, GiF, PNG; I can accept files created on Macs, PCs, pretty much anything. I even have a program that is especially designed to translate difficult files, although I would appreciate it if you stuck to the standards.
Additionally, for international users: I speak French, Spanish, Italian, and American Sign Language for the Deaf. I also can read Portugese. I am located near both Sacramento State University and the University of San Francisco, so I have many translation opportunities available to me for Asian languages, as well. So please feel free to send work in any language.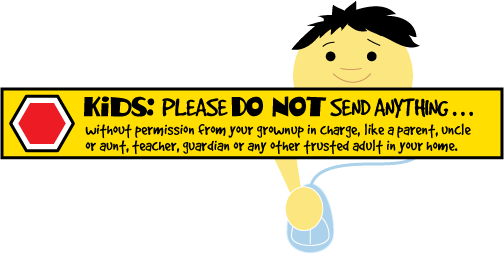 All materials © Elizabeth Bushey, except where otherwise indicated.
Contact Elizabeth Bushey





(and more available.)
Please send in any language.
* We love you.
We just don't want anyone to be able to figure out who you really are, so you stay safe.
We respect the privacy of children.
ONLY GIVE OUT your first name, or a
made-up nickname.
NOTE:
Are you a kid who doesn't have a stamp or an envelope?
Are you a teacher or a librarian who is working with limited supplies, or who would like to send a whole boxful of stuff?
I'll send a prepaid mailer to your grownup.Mail your stuff to:
Elizabeth Williams Bushey, Inkless Tales
P.O. Box 893
Newcastle, California 95658
USA