Press Kit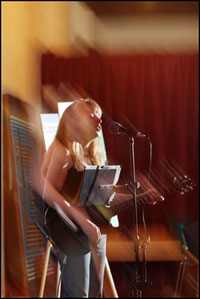 Elizabeth Williams Bushey connects with her audience – both kids and parents – by getting them immediately involved in the show.
Fun is what it's all about. She's no diva, although to a kid, anyone who shows up onstage with an electric guitar is automatically a – gasp! – rock star. She comes through on that promise, too, setting traditional tunes, like even the stodgy Row, Row, Row your boat (a current YouTube favorite) to a danceable hip-hop beat, and Mary, Quite Contrary to a growling Motown sound that rocks the house.
Her original tunes raise the roof, too: catchy but never sentimental, and often funny, they're deliberately constructed for easy pickup and singalong – or play-along. She's even got her own musical blues version of Simon Says.
Her philosophy, which usually sets the crowd alight? "Hey – don't think you can sing? Doesn't matter. The more of us who sing together, the better we ALL sound."
Everyone comes away from her concerts feeling like a star. Parents have come up to her and said: "I can't believe you got MY kid to sing."
She must be doing something right.