Rectangle,
Rectangle,
Where Have
You Been?
Jack Be Nimble
Jack be nimble,
Jack be quick
Jack jump over
The candestick.
One tall candle
One fast man.
Can he do it?
See if he can.
Flame burns four feet.
Jack jumps five.
Is that enough?
Can you count that high?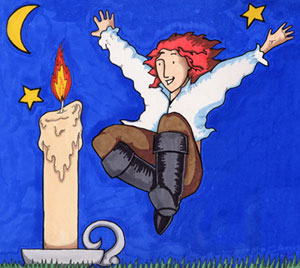 Answer here--> If Jack can jump five feet high,
and the flame is four feet high, this is what the
math looks like.
5 feet high - 4 foot flame = 1 foot left of space.
5-4=1
Five minus four equals one!
Yes! Jack can make the jump!